o butin Welcome to My New Life In Christ Church! Weekly Church bulletins are below.Never get left in the dark about what's going on in My New Life in Christ Church. If you missed a service, you can view our bulletin below, read our sermon notes (under the sermon heading). We have weekly lessons for your children too! Under the heading Ministries/Outreach Kid Zone lessons.
Remember you are welcomed, loved, and important to us!
HEALING SCRIPTURES CARD
CLICK HERE to view and print
Many apologies, still experiencing software compatability to Windows 11.
May 28,2023
No church bulletins due to software issues
No bulletin for 1 29 23
January 22, 2023
January 15, 2023
New Year New Me 01 08 2023
Happy New Year 01 01 2023
Church Bulletins 2022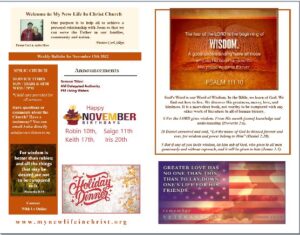 Church Bulletins 2021
2
October 24, 2021
October 10, 2021
October 3, 2021
September 26. 2021
September 19, 2021
September 5, 2021
August 29, 2021
August 22, 2021
August 15, 2021
August 8, 2021
July 25, 2021
July 11, 2021
June 27, 2021
Father's Day 0613 21
June 06, 2021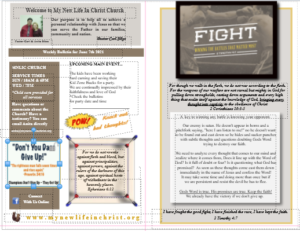 May 30,2021
May 23, 2021
May 9, 21 Mother's Day
May 2, 2021
April 25, 2021
April 18, 21
April 11, 21
April 04, 21 Happy Easter
March 28, 21
March 14, 21
Feb. 28, 21
Feb. 21, 21
Feb. 14, 21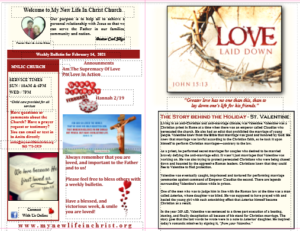 February 07, 2021
January 24, 2021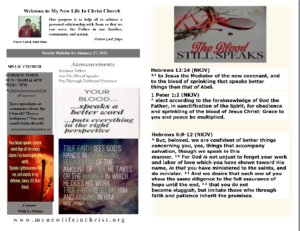 January 17, 2021
January 10, 2021
January 03, 2020
December 27, 2020
December 20, 2020
December 6, 2020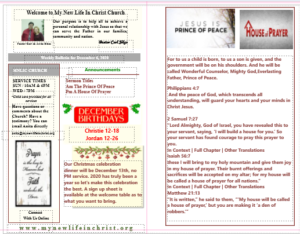 November 29, 2020
November 22, 2020
November 15, 2020
November 08, 2020
November 01, 2020
October 25, 2020
October 18, 2020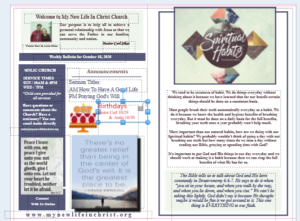 October 11, 2020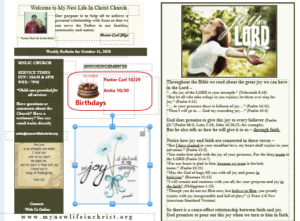 October 04, 2020
September 27, 2020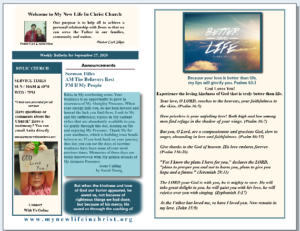 September 20, 2020
September 13, 2020
September 06, 2020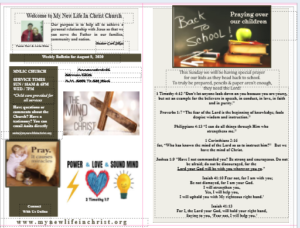 August 30, 2020
July 26, 2020
July 19, 2020
July 12,2020
July 5, 2020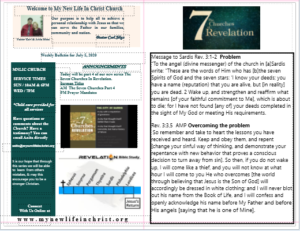 June 28, 2020
June 21, 2020
June 14, 2020
May 31, 2020
May 24, 2020
May 17, 2020
May 10, 2020 Happy Mother's Day
May 3, 2020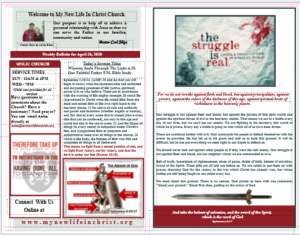 April 19, 2020
Resurrection Sunday April 12, 2020
April 05, 2020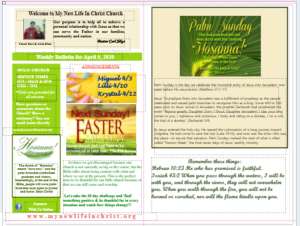 March 29, 2020
March 22, 2020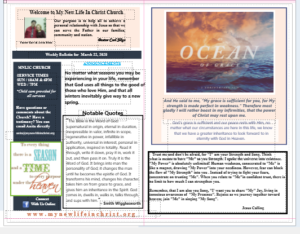 March 15, 2020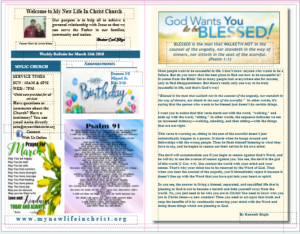 March 01, 2020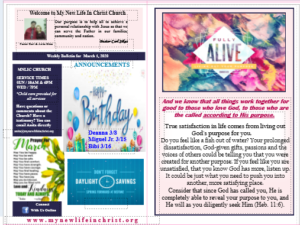 February 23, 2020
February 16, 2020
January 12, 2020